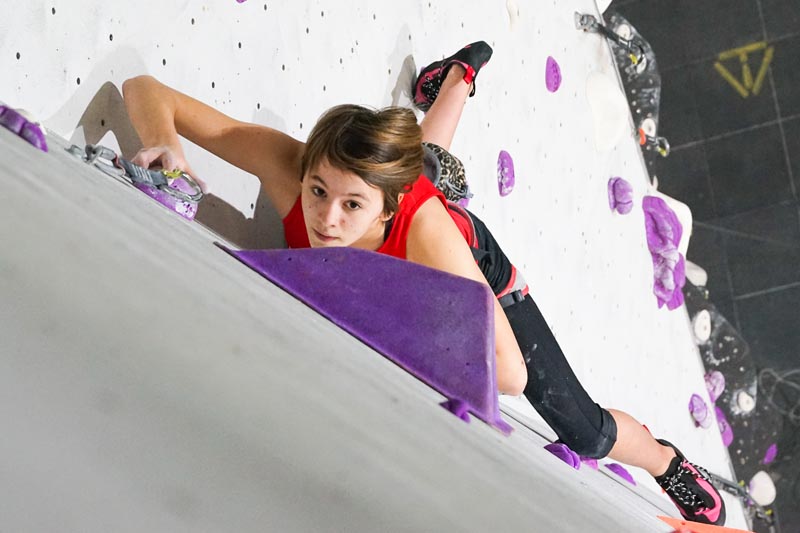 Get the buzz

from reaching the top!
Looking for a low impact, engaging workout? You've just found it. For many people roped climbing is the most exciting aspect of indoor climbing since it provides the enjoyment of climbing movement with the exhilaration of climbing high. It's a great way to keep in shape without actually feeling like you're doing exercise, giving you a full body workout at a level specific to your ability.
Unlike low-level bouldering where the focus is more on athletic movement, roped climbing provides a more subtle workout with the emphasis on endurance rather than strength. It may not be as physically demanding as bouldering, but climbing high up the walls does introduce a psychological aspect which must be mastered to succeed! It's also a great stress buster since it requires you to focus your mind entirely on your body movements.
Roped climbing does require rope management climbing skills to keep you safe and it is essential that you understand and are fully competent in the correct techniques required to safely manage the risks involved. All newcomers to roped climbing must undergo instruction, but once you complete this you'll be able to use the roped climbing areas and the bouldering areas at Beacon.
Tempted? Get started with our Learn to Climb Course!
Suitable for all ages from 18+.

8 hour Learn to Climb Course £100 / person.
Got a question? Find the answer here.
1 month free

unlimited

climbing.
Yes. You read that correctly. To help newcomers to the sport really get involved, we offer 1 month free unlimited climbing starting upon successful completion of your Learn to Climb Course. And there aren't even any annoying terms or conditions. You can climb at Beacon whenever you want, for as long as you want within the 1 month period.  This offer excludes equipment hire and all instructed sessions.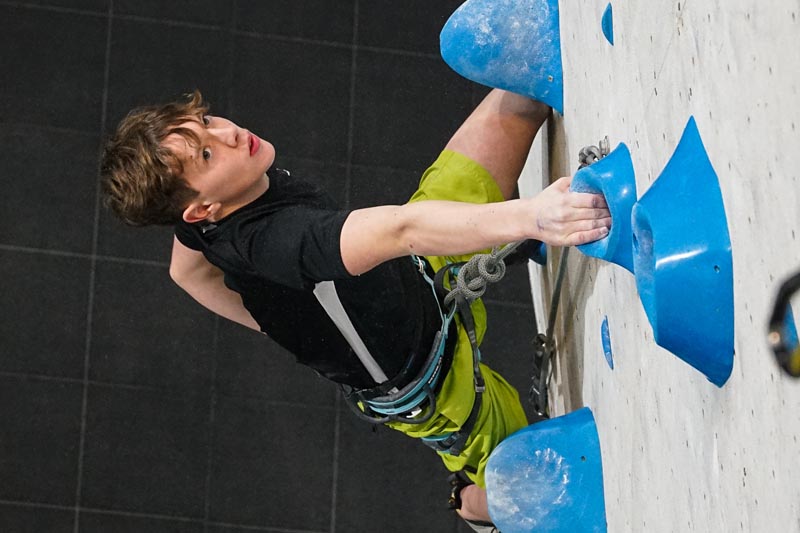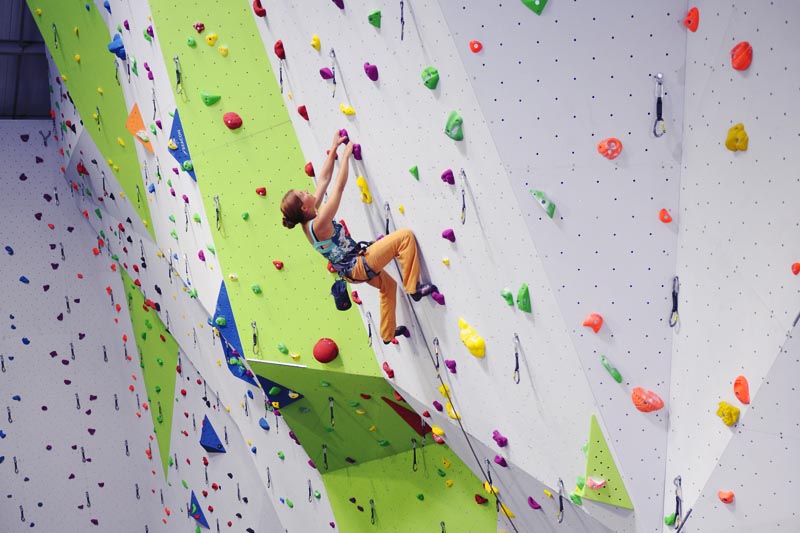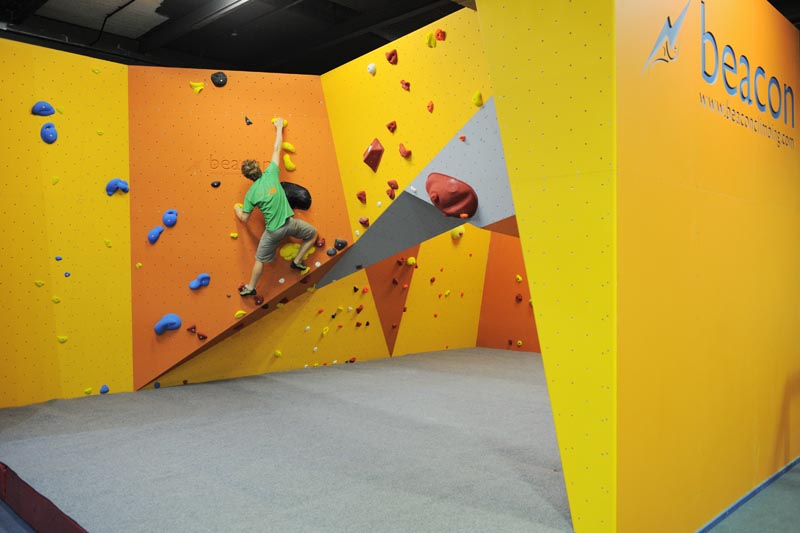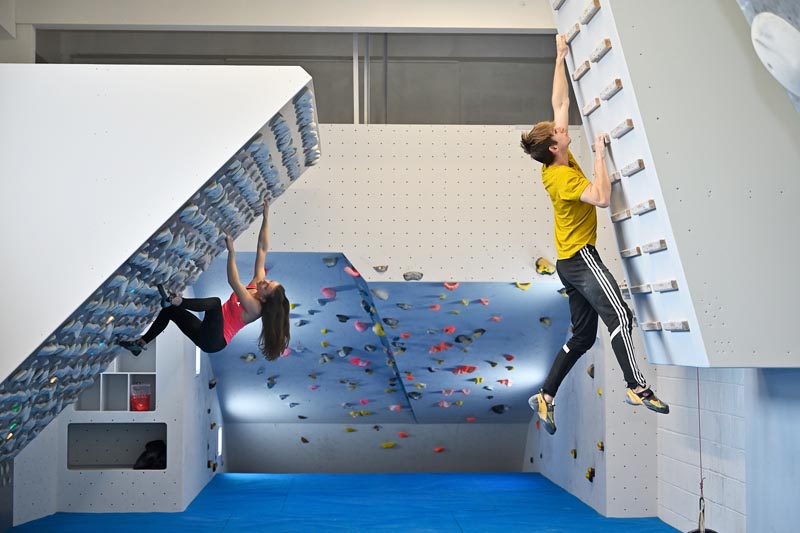 Sounds good…

how do I book?
We run Learn to Climb Courses every week on weekdays and at weekends. You can book right here using our simple to use online booking system. Our online booking system operates in real time so you can check current availability and select any available session.
LEARN TO CLIMB COURSE
Roped climbing & bouldering instruction
Minimum age 18
ADVANCE BOOKING REQUIRED
Step 1:
Check times and availability using our online calendar and book your Learn to Climb Course. The initial session is 2 hours long, during which you will be able to schedule the remaining 6 hours of instruction to suit your timetable.
Step 2:
The course covers all the climbing basics and will provide you with the skills, experience and confidence to use our roped climbing walls and the bouldering areas safely and unsupervised.
Step 3:
After completing your course you're ready to go! You can now visit Beacon at any time and go climbing unsupervised – see our current charges HERE. Unlike regular gyms, Beacon is has a range of payment options, from pay as you go to a selection of more economical multi-tickets, season tickets or monthly subscription. But remember, your first month of climbing on successful completion of the course is absolutely free!
Please ask at reception for further details.
Testimonials.
Still unsure? Read what our customers are writing about us!
Myself and my housemate shared in both a Taster Session and the Learn to Climb Course – and loved it! The quality of the routes as well as the variety is truly excellent. Beacon serves novices and experienced climbers alike, with a lovely atmosphere and top-quality staff members. Our instructors took us through the course, answered all questions and walked us through the basics. They made the entire experience so fun and have turned two gals into Spiderman impersonators – many thanks lads!
Every single penny was well spent. Our course instructor was patient, funny, but above all full of knowledge and made me and my climbing partner feel totally at ease. No question was stupid and all were well answered. After the 8 hrs it took me to complete the course I am now confident enough and skilled enough to go to Beacon. Seriously if you're after a new hobby or just want the confidence to get up the climbs, take the Learn to Climb Course. It will be the best cash you'll ever spend. Thanks Beacon!
Myself and my partner went to Beacon to do the full training course to learn how to climb and belay. And it was one of the best experiences we have had. Our instructor was fantastic with a great attitude. She was so helpful and went over all the information with easy to follow examples. She also helped me personally with my fear of heights and trusting the equipment. Also the course came with a great deal at the end – 1 month of free climbing! Overall we will 100% be coming back and are telling others about our experience.
I signed up for the Learn to Climb Course (8 hours over 2 days) as I had wanted to try climbing for ages but had no one to go with. There were 10 people on the course and 2 instructors, both of whom were brilliant. I was pretty nervous and intimidated going in, but was instantly at ease. I was scared of being rubbish and making a total fool of myself, but really enjoyed every minute and was instantly put at ease by the friendly and patient instructors and vibe of the place. I learnt so much and can't wait to go back to give it another go. Highly recommend.