You may have tried climbing before, but not like this… It's fun, it's weird, it's wacky, it's totally CRAZY! Tackle a wall covered with large purple blobs, race the clock on the speed climb… we've got over 15 different challenges to attempt and each one offers a completely different and completely crazy experience!
It's the most fun you can have climbing and the best introduction for children (and parents…!) who haven't tried it before. All sessions are fully supervised by a Beacon instructor and each challenge uses an automated safety system that gently lowers you to the ground from any point on the climb.
Suitable for all ages from 5+.

No previous climbing experience is required.

Over 15 different crazy climbing challenges to attempt.

Fully automated safety systems. Just clip in and climb up!

All sessions are fully supervised by our qualified instructors.

Birthday party options available: fully catered or room hire only.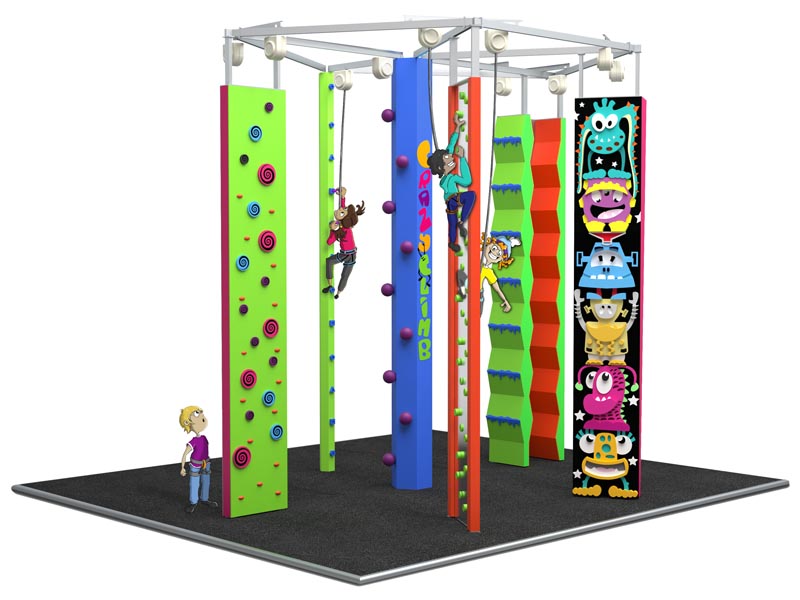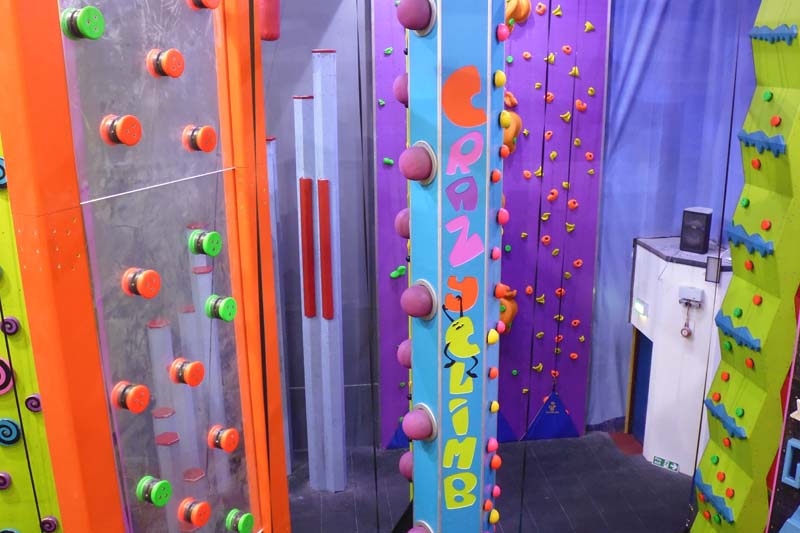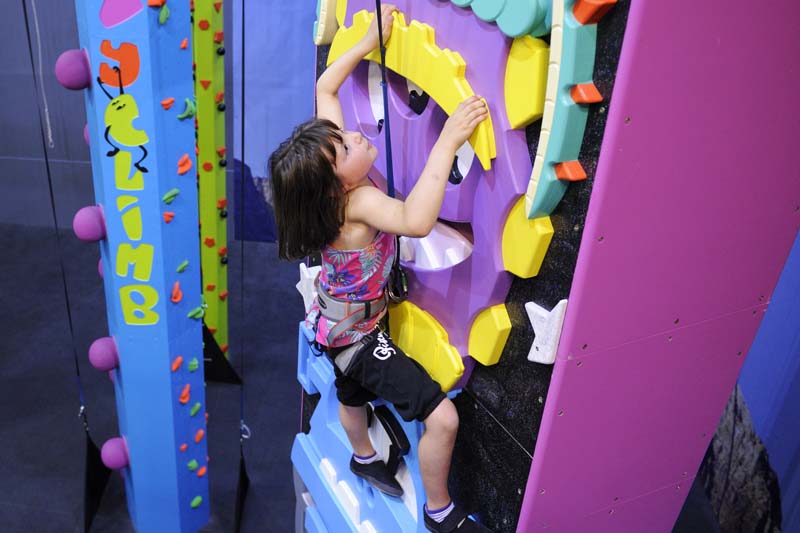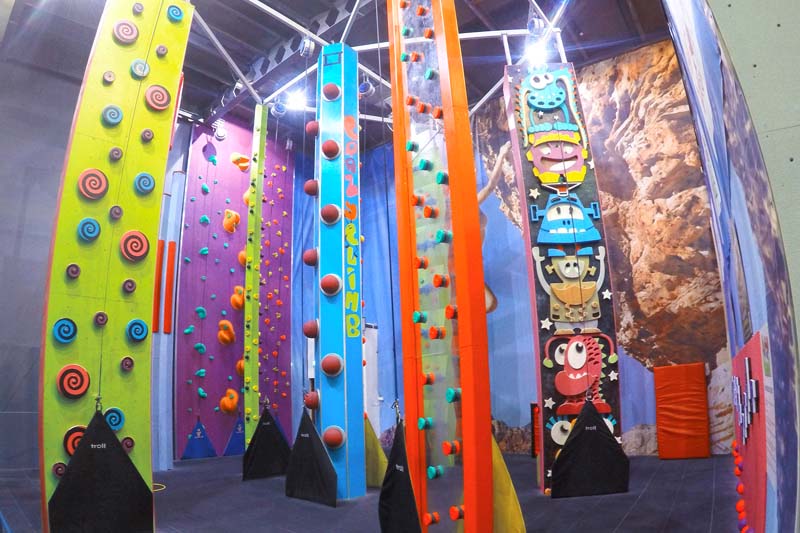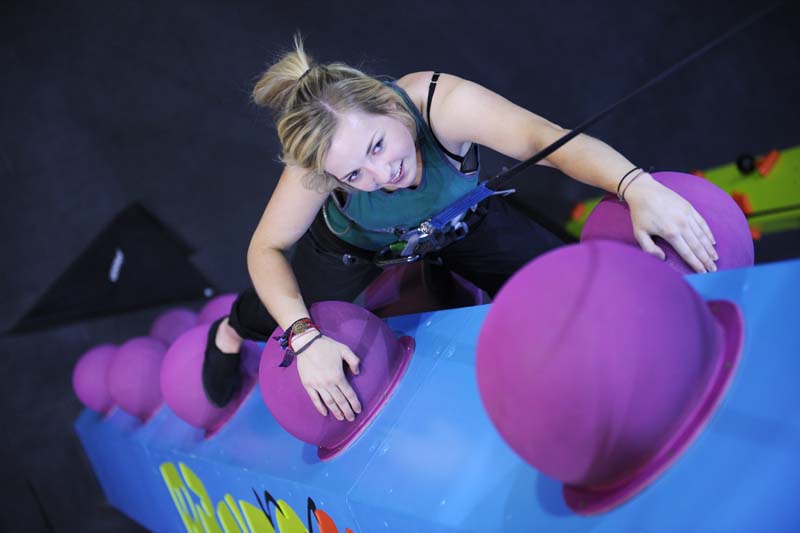 I want a go!

How do I book?
Advance booking is required for all sessions and can be done using our simple to use online booking system. Our booking system operates in real time, allowing you to check current availability and select an available date and time slot. Birthday party catering options can be selected during the booking process if required. Once you complete the booking process, you will receive an immediate confirmation of your booking by email.
Pricing.
Standard
Off-Peak: £13 / person
Peak: £18 / person
Exclusive Use 
Off-Peak: £80 / group for 1-7 people
Off-Peak: £135 / group for 8-14 people
Peak: £185 / group for 1-14 people
Choose the Exclusive Use option if you are booking CrazyClimb for a Birthday Party or other private event and you want sole use of the facility. Exclusive Use bookings must be made 48 hours in advance.
STANDARD
1 hour session
Minimum age 5
Birthday Party catering options
ADVANCE BOOKING REQUIRED
EXCLUSIVE USE
1 hour session for up to 14 people
Minimum age 5
Birthday Party catering options
ADVANCE BOOKING REQUIRED
Birthday
parties.
If you're booking for a birthday party, we offer a choice of catering options to make your party even more memorable! View our sample party menu HERE.
Fully Catered: +£6.50 / person (minimum 6 people)

Room Hire Only: +£25 per party
Fully Catered CrazyClimb parties include room hire and a selection of party food – bring your own birthday cake, balloons and party bags! Birthday party options can be selected during the booking process if required.
Download and print out our ready made party invitiations here!
What our
customers say.
I took my son, aged 8, and two of his friends here today for his birthday treat. The staff were very friendly and professional and dealt very well with 3 hyper 8 year olds! The kids loved the crazy climb, gaining more and more confidence as the time went on. Then they gave free fall a go. Again the staff were friendly and encouraging. 1 of our group decided not to jump once they reached the top and the staff dealt with it great. The other 2 loved it. Would definitely recommend the place.
I took 7 boys here for my son's 9th birthday all aged between 8 and 12. Every single one of them thought it was brilliant. Friendly staff and a little coffee shop where we got a drink and went over to the balcony to see the boys enjoying themselves. They enjoyed it so much we returned there the following week with some family members: even the 5 year old little girl loved it.
Staying locally so booked and paid on line for an hour of crazy climb for two 12 year olds and 8 year old. Text sent to confirm so no hassle of finding a printer that works or doing a screen shot. Warm welcome. Easy kitting up process. All staff really lovely even when I forgot to mention my 8 year old was autistic and might need extra supervision- no drama just a smile and thank you. Kids loved it, well worth the money and will certainly be returning.
My boys had a fantastic time at the climbing centre. They were very well looked after by their instructor and encouraged without any pressure. They loved the warm up! By the end of the 1 hour session they were both feeling very happy and confident! Mum and I were very impressed with the cleanliness of the building and lovely cafe, great size mugs and super coffee and snacks!
Both staff were excellent, each had a brilliant upbeat attitude, clear and concise instructions given, and complete control of the group from start to finish, well done girls. My kids always love climbing, but they especially enjoy the CrazyClimb, cannot recommend it enough. Everyone should give it a go.