Find out what

Beacon

is all about!
If you're looking for a new exciting challenge then climbing is for you – It's the perfect antidote to boring gym regimes for adults and a great way to prove to kids that exercise is actually very exciting!
Indoor climbing is a really fun way to exercise and offers an exciting workout at a level specific to the individual. Humans have been climbing things to escape from wolves and other scary stuff for thousands of years so don't let modern life supress your natural instinct to climb!
Inside Beacon, you'll find hundreds of different colour-coded climbs to attempt from high climbs requiring the use of a safety rope and harness, to low level boulders attempted above foam matting.
All our climbs are graded according to difficulty so that participants are able to operate at a level specific to their individual capabilities – there's something for everybody from relatively easy challenges for those new to the sport, to professional level climbs designed to inspire and challenge future champions.
The aim is to ascend a climb using only the designated coloured holds – think of it as join the dots but much more interesting! Choosing the correct sequence of coloured holds and reaching the top provides an unbeatable feeling and a really fun workout.
The color-coded climbs are also changed regularly throughout the year, ensuring that there are always fresh challenges for you to try during future visits.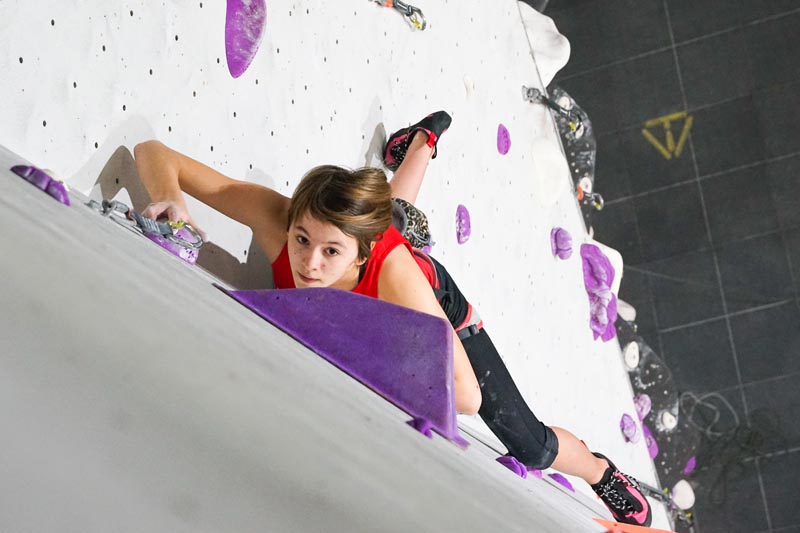 Bouldering is fast becoming the most popular form of climbing and is a great entry point for the sport, especially if you are starting out alone.
It is low-level climbing undertaken without the use of a safety rope and typically limited to a height of 4-5m above foam matting to help prevent injury from falling.
Due to the limited height of bouldering walls, bouldering does not require the specialist equipment and training required for roped climbing and also removes the psychological aspect of climbing high. Instead it provides a more intense workout that concentrates solely on short sequences of athletic movement that emphasis body dynamics, suppleness, power and strength.
Sociable, dynamic and really good fun, Bouldering is the easiest and fastest way to get involved with indoor climbing at Beacon, and can be practised on your own and at your own pace.
If you are new to climbing, you can get started by booking a 1 hour Bouldering Intro. This induction session covers the fundamentals of bouldering and clearly explains how to use the bouldering areas at Beacon safely and responsibly.
After successfully completing your Bouldering Intro, you will be able to visit Beacon at any time and climb unsupervised in the bouldering areas, upon payment of our standard single entry fee.
Get started.

A Bouldering Intro can be organised at time and date to suit your schedule. We'll get you started with the fundamentals and you'll then be able to use Beacon on your own. Participants must be age 18+.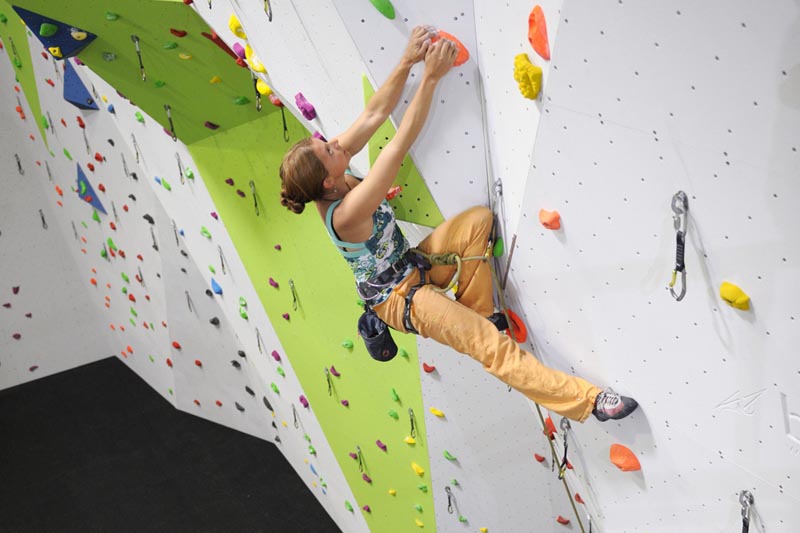 For many people roped climbing is the most exciting aspect of indoor climbing since it provides the enjoyment of climbing movement with the exhilaration of climbing high.
Unlike low level bouldering where the focus is more on athletic climbing movement, roped climbing provides a more subtle workout with the emphasis on endurance rather than strength. The individual movements made during roped climbing are much easier than those executed when bouldering but the additional length of a roped climbs means that a tactical approach is necessary. To reach the top, you'll need to work out how to efficiently move between the holds and to manage the speed at which you climb. Spend too long contemplating the moves and your arms will quickly reach the limit of their endurance capabilities – at which point it becomes very difficult to hang on!
Whilst roped climbing may not be as physically demanding as bouldering, climbing high up the walls does introduce a psychological aspect which must be mastered to succeed.
If you're worried about being scared of heights, indoor climbing is actually a great way to conquer your fear. You can try climbing up at your own pace, safe in the knowledge that the safety rope will immediately take your weight, should you wish to let go and return to the ground.
Roped climbing require rope management climbing skills to keep you safe and it is essential that you understand and are fully competent in the correct techniques required to safely manage the risks involved. To ensure safe practice, all beginners are required to undergo instruction.
Get started.

If you have never tried indoor climbing before, you will need to book onto an Taster Session or an Intro Course. All equipment is provided and our qualified instructors will guide you through the skills and techniques required to keep you safe during your first steps off the ground.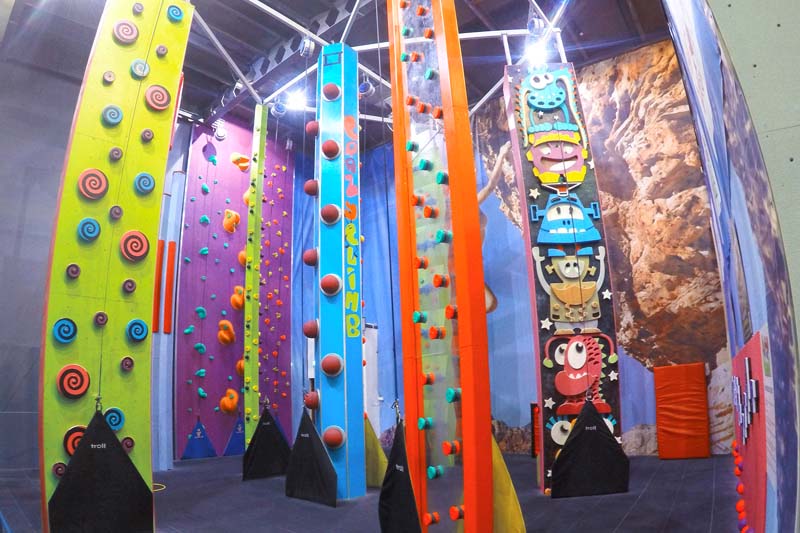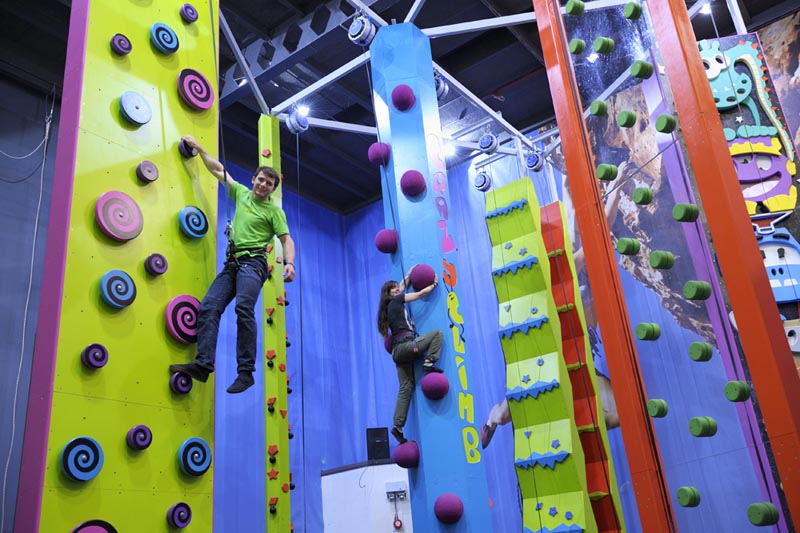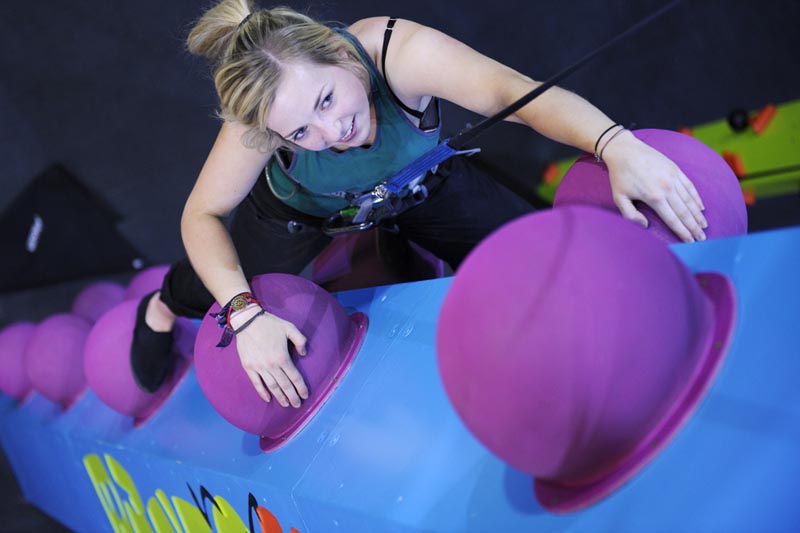 Indoor Climbing with a difference! It's fun, it's weird, it's wacky, it's totally CRAZY!
We reckon that CrazyClimb is the most fun you can have on a climbing wall and the best introduction to climbing for children (and parents!) who haven't tried it before. If you're looking for a fun way to get involved with climbing then look no further!
Tackle a wall covered with large purple blobs, race the clock on the speed climb, climb a wall covered in rotating wheels… we've got over 15 different climbing challenges to try and each one offers a completely different and completely crazy experience!
One of the best things about CrazyClimb is that you don't need any previous experience or any specialist training to have a go.
Unlike regular roped climbing, CrazyClimb uses really simple, fully automated safety systems that completely remove the need for complicated rope work. You can let go at any point on the climb and the safety system will gently lower you to the ground.
A short safety briefing is conducted prior to each CrazyClimb session, after which participants simply clip into the safety system using a safety harness and are then ready to begin climbing!
Get started.

CrazyClimb sessions run every weekend and every weekday during school holidays too. We also offer awesome birthday parties.