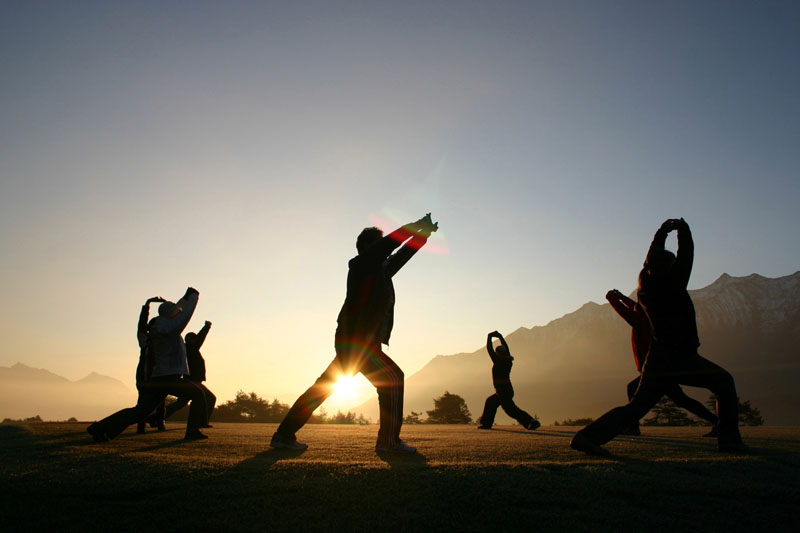 T'ai Chi & Qigong

at Beacon Climbing Centre.
These ancient arts can keep your body active and strong for many years, whether you climb or not.
T'ai Chi can be described as slow flowing movements to encourage physical fitness, co-ordination and suppleness without the risk of strain or injury. Its stimulating effects on the circulation and gentle toning of the muscles helps to improve energy levels and stamina.
The calming powers of Qigong are the perfect antidote to the psychological stresses of modern living, helping to induce relaxation, which in turn improves the functioning of all the body's systems as well as boosting mental acuity and powers of concentration.
Open yourself to the healing and calming powers of T'ai Chi and Qigong with weekly classes at Beacon Climbing Centre. Suitable for all ages and fitness levels.
Calms the mind.

Helps co-ordination.

Helps to relieve stress.

Aids circulation.

Improves mobility and balance.

A gentle form of exercise.
Keep your body

active and strong

with weekly classes.
Availability.
T'ai Chi & Qigong classes at Beacon Climbing Centre have been suspended until further notice due to Covid-19.
Please contact class operator Lindsay Meek on 01286 870 353 or 07854 438 013 for further information.
Your teacher.
Lindsay Meek has been practising T'ai Chi and Qigong since 2002 and qualified as an Instructor in 2009 following completion of a 3 year Instructor Course.
Classes are relaxed and have an emphasis on enjoying the practice and benefits of both these disciplines. All movements can be adapted to suit the individual making it suitable for all ages and abilities
All you need to take part is comfortable clothing that you can move around in and flat shoes.