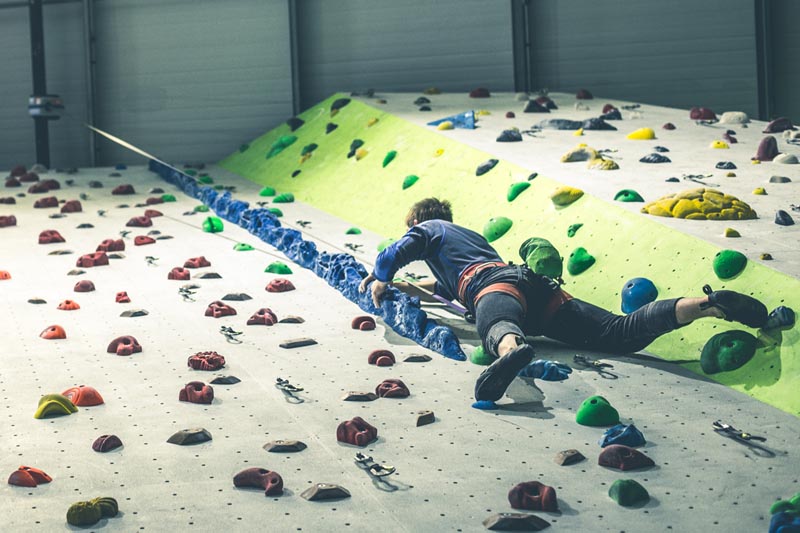 Information for

experienced

climbers.
You must be an experienced climber age 18 or over to climb at Beacon unsupervised. Under 18s must be supervised by a competent registered adult.
Designed, built and used by people that are passionate about climbing, Beacon is the largest indoor climbing centre in North Wales and a firm contender for Snowdonia's most consistent climbing venue!
We welcome climbers of all abilities, no matter whether you are just starting out or pushing the big numbers. You'll find a full range of roped climbing and bouldering from relatively easy challenges for those new to the sport to fiendishly difficult climbs capable of testing the best climbers around.
Whether you are a regular visitor or just passing through, we hope that every visit to Beacon leaves you motivated and inspired for your future climbing endeavours, whatever they may be. Have fun and stay safe.
Roped climbing.
Multi-faceted lead climbing walls up to 17m high & 7m overhanging.

Gently overhanging & vertical walls for more technical roped climbing.

15m Official Speed Climb with timer and Speed Drive auto belay.

15m continuously overhanging wall with auto belay unit.

Top roping area with 2 auto belay units.

56 route lines with grades from F3 to F8+.
Bouldering.
Multi angled bouldering areas including a full overhanging arch

All styles covered from tenuous slabs to 30+ move upside down journeys.

12m long & 5m wide bouldering 'routing' roof with raised matting.

Over 100 problems with grades from F1 to F8A.
Training.
Beastmaker 1000 & 2000 fingerboards.

Peg board & systems board.

Large 35 & 45 degree circuit boards.

Campus board.

Gymnastic rings.
Standard entry prices &

membership deals.
The standard entry charges listed are for registered adult climbers or under 18s/novices being signed in by a registered adult climber. Not registered? Please read our REGISTRATION information. Registration is free and is mandatory if you wish to use Beacon Climbing Centre. If you have little or no climbing experience, you will need to undergo instruction prior to using Beacon – please refer to our GET STARTED section for starter session pricing.
If you want to climb regularly, our 10 entry pass deal allows reduced rate entry on any day and at any time for a total of 10 visits with an advance payment. These passes have no time expiration so can be used at any time in the future. We also offer a 5 entry pass for students only.
|  STANDARD ENTRY | DAY PASS | 10 ENTRY PASS | 5 ENTRY PASS |
| --- | --- | --- | --- |
| Adult | £9.50 | £85 | |
| Student/Concession* | £8.50 | £70 | £35** |
| Under 18 | £7.20 | £55 | |
| Under 6 | £3.00 | |  £12.50 |
| Over 80 | Free | | |
| Supervising Adult | Free | | |
| Group under instruction | £6.00 | | |
*Over 65's, unemployed or full time students. All must have current proof of status.
** Students only. A valid student ID card is required.
Want unlimited climbing? Beacon membership allows unlimited use of the climbing centre for a 3, 6 or 12 month period and could literally save you hundreds of pounds!
| UNLIMITED MEMBERSHIP | 3 MONTHS | 6 MONTHS | 12 MONTHS |
| --- | --- | --- | --- |
| Adult | £135 | £255 | £435 |
| Student/Concession* | £115 | £215 | £370 |
| Under 18 | £90 |  £165 | £290 |
| Family Membership** | £285 | £495 | |
| Additional family member | £65 | £115 | |
*Over 65's, unemployed or full time students. All must have current proof of status.
**1 adult + 2 children or 2 adults + 1 child
Rock
Chicks.
Organised by Beacon instructor Clare Mayfield, these female only sessions are open to anyone from new climbers through to those with more experience. Once you've completed your LEARN TO CLIMB COURSE what better way for new climbers to learn skills than from other more experienced climbers in this relaxed, sociable group. There's also an instructor on hand throughout the session if you're looking for some handy tips.
Every Monday 7:00pm to 9:00pm
Minimum age 18
Free coaching
evenings.
If you want to meet up with other people to climb with or learn more about climbing, turn up on a Friday evening and you can receive coaching tips and advice from our super-friendly instructor Pete – just ask the staff at reception for an introduction. These informal and sociable sessions run every week and are also a useful way to find climbing partners and form a group of regular climbing friends.
Every Friday 7:00pm to 9:00pm
Minimum age 18