Welcome

to Beacon Climbing Centre!
Designed, built and used by people that are passionate about climbing, Beacon is the largest indoor climbing centre in North Wales. We welcome all climbers, no matter whether you are just starting out or pushing the big grades. You'll find a full range of indoor climbing from relatively easy challenges for those new to the sport to fiendishly difficult climbs capable of testing the best climbers around. Whether you are a regular climbing wall user or just visiting North Wales, we hope that every visit to Beacon leaves you motivated and inspired for your future climbing endeavours, whatever they may be.
About Beacon.
The biggest and best indoor climbing around.

Year-round all weather venue open every day.

Climbing for all ages from 5+.

Complete beginner to advanced level.

CrazyClimb – awesome climbing challenges!

Expert instruction for all levels including groups.

Café with birthday party & group catering.

Plenty of free car parking.

Conference facilities.

Free WiFi.
Visiting with friends or family but not climbing, or just fancy having a look around? Spectators are free to relax in the seating area overlooking the climbing walls.
First time climber?
Anyone can try climbing… It's the perfect antidote to boring gym regimes for adults and a great way to prove to kids that exercise is actually very exciting! Beacon is fun, friendly and an awesome experience for all ages and abilities – if you're looking for a new exciting challenge then indoor climbing is for you.
Humans have been climbing things to escape from wolves and other scary stuff for thousands of years so don't let modern life suppress your natural instinct to climb. Conquer our high roped walls for an unbeatable sense of achievement. Or experience the freedom of climbing without using a rope in our low level bouldering areas. Have fun and keep fit!
If you have never tried indoor climbing before, you will need to book onto one of our Taster Sessions or Intro Courses.
CrazyClimb Caernarfon.
Indoor climbing with a difference… fun, weird and wacky climbing challenges! CrazyClimb is the most fun you can have on a climbing wall and is perfect for children, parents and even whole families. All  sessions are supervised and no previous experience is required.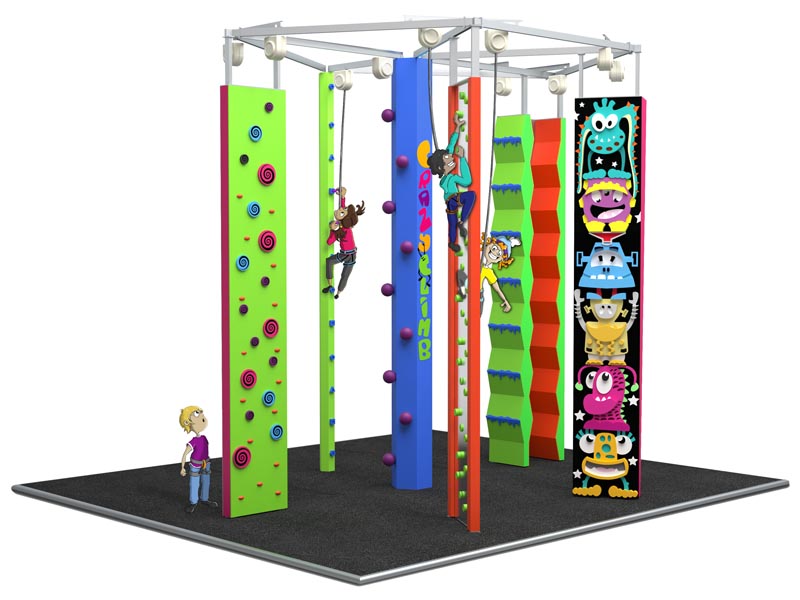 Simple online booking system with real time availability. Book here.
Advance booking is required for all sessions and can be done using our simple to use online booking system. Our booking system operates in real time, allowing you to check current availability and select an available session convenient for you. Once you complete the booking process, you will receive an immediate confirmation of your booking by email.
Opening times.

Beacon Climbing Centre is open every day all year including all bank holidays, except for the 25th and 26th December.
Weekdays 10am – 10pm (Thursdays from 8am)

Weekends 10am – 8pm

Bank Holidays 10am – 10pm

Closed 25th and 26th December
Reduced opening hours on Christmas Eve, New Year's Eve and New Year's Day.
Read our reviews.

We use Trip Advisor, the UK's most popular activity and travel review website, to monitor customer experience. Beacon Climbing Centre is currently 5 star rated and has been awarded a Certificate of Excellence based on feedback from our customers.
Recently visited Beacon? To rate your experience please visit our Trip Advisor review page HERE.
Your feedback is important to us because we want to provide the best indoor climbing experience around. We read all our reviews and we are always eager to hear what you liked and how we can improve.
Get in touch!

Got a question? If you need more information about the awesome indoor climbing on offer at Beacon Climbing Centre then please get in touch. We're here to help! Charity requests must be made through our Charity Request Form HERE.
Want to speak to a real person? We offer phone support during normal opening hours. If you're unable to get through, please leave a message or request a call back using the contact form here and we'll get in touch as soon as possible.
01286
677 322

Beacon Climbing Centre is situated on the Cibyn Industrial Estate off the A4086 between Caernarfon and Llanrug in Gwynedd, North Wales.
The world's most prestigious mountain film festival is coming to Llandudno with a brand new selection of extraordinary s [...]
Beacon is a NIBAS (National Indoor Bouldering Award Scheme) accredited Primary Centre, delivering the nationally reco [...]
Free coaching. Every Wednesday 7:00pm to 9:00pm Minimum age 18 Advance booking is not required Want to know your [...]
What else?
Beacon Climbing Centre is operated by ClimbUK. The ClimbUK group is one of the UK's leading exponents of indoor climbing, operating 2 large indoor climbing centres, a climbing wall manufacturing business in partnership with Walltopia, and supplying Beacon, HRT, Fiction and Agripp climbing holds to the UK market.
Manufacturing
Looking to build a commercial climbing facility? ClimbUK has over 20 years of experience designing and building innovative climbing walls and now manage UK sales operations for Walltopia, the World's foremost manufacturer of artificial climbing structures.
Walltopia not only offer the largest and most complete range of climbing wall surfaces available in the world today but can also deliver complete solutions for customers' facilities and businesses from project design to wall assembly, route setting and staff training.
Climbing Hold Sales
Beacon Climbing has been producing climbing holds for over 20 years and our shapes are tried and tested on climbing walls throughout the UK. These years of accumulated experience and knowledge as both manufacturer and end user through the operation of Beacon Climbing Centre has allowed us to exactly understand the process behind creating premium climbing holds. This is what we produce.
We are also the exclusive UK supplier for HRT, Fiction and Agripp climbing holds.
Climbing Centres
In addition to Beacon Climbing Centre in North Wales, we also operate Big Rock Climbing Centre in Milton Keynes, located in Kingston just off the M1.
Big Rock is the area's largest indoor climbing centre with over 1,250sqm of top-rope climbing, lead climbing, bouldering, a CrazyClimb facility, and instruction for all levels of ability including complete beginners. The centre also has an excellent café serving hot and cold snacks and meals, an equipment shop, conference facilities and ample on-site parking.