Did you know…? It is now a quarter of a century since Beacon Climbing Centre originally opened on 17th October 1994, becoming one of only a handful of dedicated indoor climbing centres operating in the UK at the time. For us, it's a milestone anniversary and, as such, it deserves celebrating!
We would love you to join us at the centre on Saturday 14th December 2019, as we host our anniversary evening with BOULDER JAM UV, HEAD TORCH CLIMBING and a social evening in the café/bar where you can meet the staff, hang out with existing climbing friends, meet some new ones… and reminisce about how quickly time passes! We'll also be offering some great raffle prizes to be selected at random from all check-ins on the day.
Boulder Jam UV Under 18s… from 4:30pm to 6:00pm.

Boulder Jam UV Adults… from 6:30pm to 9:30pm.

Head Torch Climbing… from 4:15pm to 10:00pm.

Social evening in the café/bar… from 6:00pm until midnight.
The success of Beacon over the years has, in the main, been due to the enthusiasm and involvement of the directors, staff, instructors and you; one of the many hundreds of thousands of climbers who have passed through our doors since we first opened 25 years ago. Thank you for your support and we hope that you can join us for our anniversary evening.
1994. The year that was…
After three centuries of white rule, South Africa holds its first inter-racial national election and Nelson Mandela becomes the country's first black president, stating during his inauguration speech: "Never, never again will this beautiful land experience the oppression of one by another."
Forrest Gump is released, turning Tom Hanks into one of the biggest names in the movie industry and making everyone else quote that "life is like a box of chocolates" until you were ready to hit them over the head with a slab of Dairy Milk.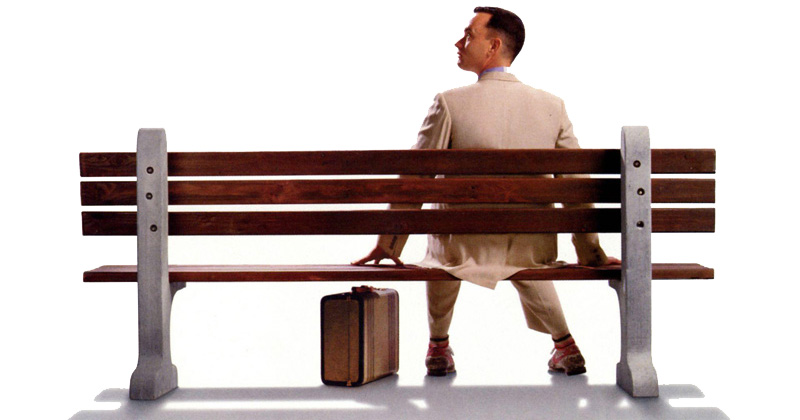 The Britpop wars that defined 90s alternative culture peaks with the release of Oasis's Definitely Maybe and Blur's Parklife – two albums whose swagger captured the renewed hope of a nation emerging from a recession and entering a new political era thanks to Labour leader Tony Blair.
The internet got real, with the founding of both Yahoo and Amazon. Buying books would never be the same again and mass marketing email campaigns were launched, introducing the term "spamming" to the internet vocabulary.
And in the world of climbing…
Beat Kammerlander climbs Silbergeier 8b+ in the Swiss Rätikon, Thomas Huber climbs End of Silence 8b+ in the German Berchtesgaden Alps and Stefan Glowacz climbs Des Kaisers neue Kleider 8b+ in Austria's Wilder Kaiser. Now dubbed The Alpine Trilogy, these three ascents by three climbing legends of the time represented the most difficult multi-pitch sports climbs in the Alps and became a milestone in the history of alpine sport climbing.
Lynn Hill upped the ante again a year after her monumental first free ascent of The Nose on El Capitan in Yosemite the previous year with another ground breaking achievement: setting out on 19th September 1994 with partner Steve Sutton, Lynn climbed the entire route free in just 23 hours. At a time when men dominated the sport, this one day ascent of The Nose was years ahead of its time and is regarding as one of the most impressive feats in climbing history.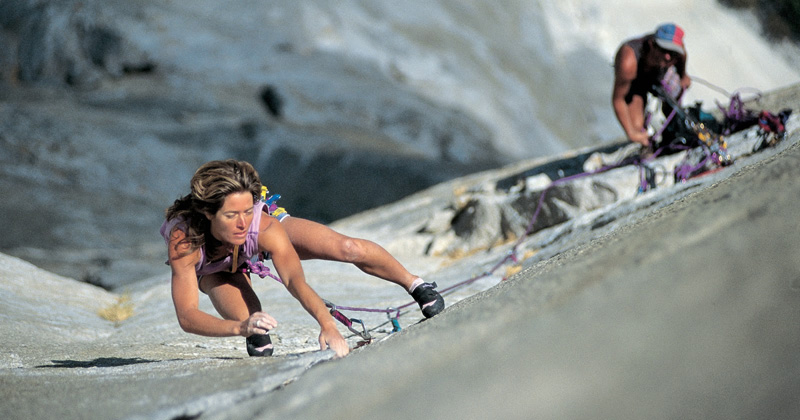 Like King Kong, Alain Robert scales the Empire State building in New York; unassisted, unroped, and illegally. Wedging his fingers in between window sills and stepping on protruding ledges, Alain began a journey that would lead him to spend the next decades scaling some of the world's most iconic structures and tallest buildings using no ropes, no harness or any other equipment beyond climbing shoes and a bit of chalk.
The original Beacon Climbing Centre opens in the old Marconi building on the Ceunant hillside, brought into being by two local climbers, Gill Lovick and Steve Mayers, who saw the desperate need for a large, decent climbing wall in the Llanberis area. Initially dubious as to whether anyone would show up, Beacon has evolved over the ensuing years to establish a reputation as one of the best indoor climbing venues in the UK. Gill and Steve: we salute you.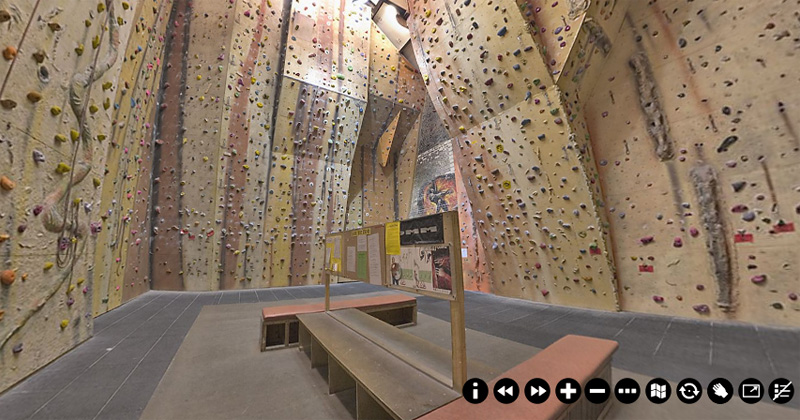 Visit KEITH ROBERTSON'S excellent website for the original tour – scroll down the page to find Beacon Climbing Centre.